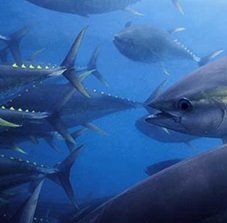 Proyeto L.2.c - Assessing the efficacy of potential management options on highly vulnerable shark species in the EPO
Haga clic para ver proyectos por tema, meta u objetivo:
Objetivos

To use the EASI-Fish ERA approach to assess the efficacy of potential conservation and management measures for reducing fishing impacts on shark species identified in project L.2.b as being highly vulnerable in the EPO

Antecedentes

IATTC is committed, through the Antigua Convention, to ensure the long-term sustainability of all non-target species impacted by EPO tuna fisheries.
IATTC Project L.2.b used the EASI-Fish (Ecological Assessment for the Sustainable Impacts of Fisheries) approach to identify the most vulnerable elasmobranch species caught as bycatch in EPO tuna fisheries.
EASI-Fish has been used by the IATTC as an alternative approach to traditional population models to assess the efficacy of management measures on data-limited bycatch species including the critically endangered leatherback turtle and the spinetail devil ray.
The staff has been tasked to conduct conventional stock assessments for priority shark species, but the quality of the available fishery data remains prohibitive for this purpose (see section 4 on shark workplan). As an interim data-limited alternative to conventional stock assessments, EASI-Fish will be used to assess shark species identified as being highly vulnerable.

Importancia para la ordenación

EASI-Fish assessments can transparently identify vulnerable elasmobranch species in the EPO. However, vulnerability may be reduced differently for each species. Therefore, by undertaking separate EASI-Fish assessments for each vulnerable species, management measures that may be most efficient and cost-effective may be identified for each species, and for all species in concert. This will ultimately simplify the development of fewer management measures (if required) and minimize the losses of target species catch as a result.

Duración

12 months

Plan de trabajo y estatus

Jun-Dec 22: develop species-specific EASI-Fish assessments for the most vulnerable species identified and pose potential management strategies to reduce vulnerability
Jan-Apr 23: Finalize EASI-Fish assessments
May 23: present final species-specific EASI-Fish assessment results at SAC-14.

Colaboradores externos

CPCs, SPC

Productos

Paper and oral presentation at SAC-14
Scientific journal publication
Fecha actualizada: 01 may. 2022

Resumen de los avances en el periodo del informe

Apr 2022: Initial EASI-Fish assessment completed for 32 shark species caught in EPO tuna fisheries (Document SAC-13-13)
Apr-May 2022: 20 species identified from EASI-Fish as "most vulnerable" and require further consideration and/or more detailed assessment.
May 2022: SAC to determine which (and how many) species are the highest priority to include in this project.