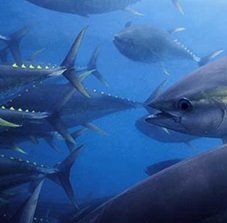 Proyeto J.2.b - Identifying operational characteristics associated with mobulid bycatch in the eastern Pacific Ocean
Haga clic para ver proyectos por tema, meta u objetivo:
Objetivos

Understand the nature of mobulid bycatch in the purse seine fishery, and in particular, the effect of different operational characteristics on mobulid bycatch rates.
Build on and inform ongoing research to host workshops with purse seine skippers and crew to identify feasible onboard gear, handling and release modifications to reduce mobulid mortality.
Tailor bycatch mitigation options for variability in vessel and gear type, as well as the operational details of the vessel.

Antecedentes

Manta and devil rays (i.e. mobulids) range overlaps with that of the world's tuna fleets, leading to the potential for interactions with fisheries.
Recent interest in mobulid conservation has focused on reducing post-release mortality. However, the operational characteristics of vessels that might determine bycatch rates for mobulids are not well understood yet.
Understanding operational characteristics that are related to variability in mobulids bycatch rates will help target specific segments of the fleet for bycatch mitigation and improve discussions with stakeholders and fishers.

Importancia para la ordenación

The results of this work will help prioritize vessels with relatively high bycatch and help to identify vessels with feasible mitigation options to reduce mobulid mortality. Similarly, the results of the project will enable the staff to better understand the effect of operational characteristics of purse seiners and mobulids bycatch and propose both additional experiments and conservation and management measures for mobulids in the EPO, as necessary.

Duración

12 months

Plan de trabajo y estatus

2022 – analyze observer data and build models for sets with reported bycatch of mobulids as well as for sets without mobulids as a function of several operational characteristics. The analysis will focus on areas and months previously identified as bycatch "hotspots" (Lezama-Ochoa et al. 2019). The potential effect of environmental variables (e.g. SST, temperature at depth, MLD, chlorophyll) on catch rates will also be tested, and, if possible, modelled to obtain a clearer signal between vessels operational characteristics and the bycatch rates.
2023 – production of dissemination materials and reports for the SAC and the Bycatch Working group

Colaboradores externos

University of California Santa Cruz

Productos

A report for the Bycatch Working Group and the SAC in 2023
Dissemination material for skippers' workshops and the tuna conference 2023
Fecha de actualización: 01 may. 2023

Resumen de los avances en el periodo del informe

Coordination and discussions with the main author on data availability and formatting.
Survey conducted with the fleet on the use of different elements for bycatch avoidance (e.g. use of aerial surveys, helicopters).
Preparation of a peer-reviewed publication describing the use of helicopters for bycatch mitigation.
Waldo et al. – Exploring helicopter vessel communication for Mobulid bycatch avoidance (EBWG-01)

Comentarios

Due to scheduling issues with the main author of the study, the project has been extended for another year. Results are expected to be presented in 2024.