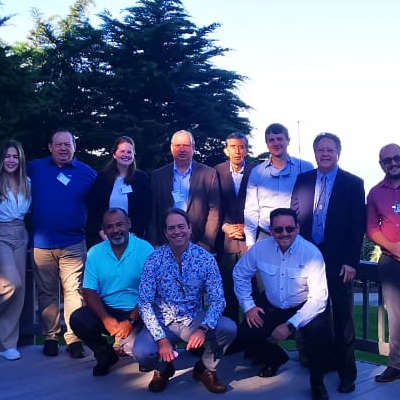 45th Meeting of the parties – October 2022
Press release
AGREEMENT ON THE INTERNATIONAL DOLPHIN CONSERVATION PROGRAM (AIDCP)
The 45th Meeting of the Parties to the AIDCP was held in La Jolla, California, on October 17-18, 2022, under the chairmanship of Mr. Alvin Delgado, of Venezuela, who was re-elected at the end of the meeting for a new two-year term. The hybrid nature of the meeting, held simultaneously in person and by videoconference, did not prove to be an impediment to its success, since it was able to fully comply with the agenda that had been set.
Once again, the very low level of dolphin mortality in the fishery was noted, with 0.074 dolphins per set, for a total of 729 deaths in the 9,887 sets on dolphins during the year 2021, due to the good performance of the purse-seine fleet in terms of compliance with the AIDCP, as evidenced in the report presented by the chair of the International Review Panel (IRP). The IRP, as a subsidiary body of the AIDCP, is made up of representatives of the Parties and also of representatives of non-governmental environmental organizations and of the industry. Also, the Meeting of the Parties noted with satisfaction the report of the Permanent Working Group on Tuna Tracking regarding the very high rate of compliance with the submission of tuna tracking forms, which has remained above 95% for the last few years.
The smooth running of the program was assured for 2023, with the approval of the budget for that year and the finalization by the Parties of the negotiation of the Rules of Procedure of the AIDCP which were adopted as Resolution A-22-01. Only the issues of the utilization of the existing surplus and the increase in the compensation paid to on-board observers remained pending: both issues will be discussed during a virtual meeting of the Parties to be held in December 2022. The Meeting was also able to finalize a first reading of the guidelines on the working conditions of on-board observers and the procedures applicable to them.
The Meeting of the Parties also endorsed the recommendations of its Working Group to promote and publicize the AIDCP Dolphin Safe Tuna Certification System, which will allow for the intensification and streamlining of the corresponding activities, in particular through an increased and more active presence on social networks. As a related matter, it also approved the Group's recommendation that the Secretariat participate in the ongoing process of negotiating, within the framework of the United Nations, a new binding legal instrument on biodiversity conservation beyond national jurisdiction.
Finally, the Meeting of the Parties noted with satisfaction that an informal meeting of the heads of the various national observer programs was held during the same days, with the participation of the heads of the AIDCP observer program, and, after receiving the report of this meeting, decided to formalize this process for the coming years.