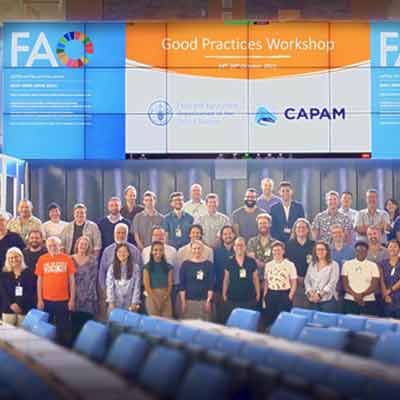 IATTC Press Release - CAPAM
Press release
IATTC staff member plays key role in multi-award-winning workshop series on fisheries stock assessment held at FAO headquarters
"… hard pressed to think of another achievement which has had such deep and far‐reaching influence on improving approaches to support the conservation and management of the world's oceans."
Éva Plagányi, Principal Research Scientist and Team Leader, Commonwealth Scientific and Industrial Research Organisation (CSIRO), Australia
Dr Mark Maunder, head of the Inter-American Tropical Tuna Commission (IATTC) Stock Assessment Program, co-organized and chaired a workshop on fisheries stock assessment held on 24-28 October at the United Nations Food and Agriculture Organization (FAO) Headquarters in Rome, Italy. The workshop drew over 70 in-person participants from a diverse range of more than 20 nationalities and many also connected virtually. They discussed stock assessment good practices for a variety of topics. Each topic had a keynote speaker who summarized the state of the art and proposed good practices, and a commenter. There were also several contributed presentations. IATTC senior scientist Carolina Minte-Vera gave a presentation describing how creating a conceptual model of the stock can greatly aid development of the assessment and there was strong support that this is a good practice. IATTC senior scientist Haikun Xu gave a virtual presentation describing a study that investigated the impact of the contraction of the distant water longline fishery in the eastern Pacific Ocean and approaches to minimize its effect.
This was the culmination of a workshop series that was started in 2002 at the IATTC and later formally became the Center for the Advancement of Population Methodology (CAPAM) series in 2012, when CAPAM was co-founded by Mark, Paul Crone of the U.S. National Marine Fisheries Service (NMFS), and Brice Semmes of Scripps Institution of Oceanography (SIO).
"It is a real community of practice that attracts top people in the field. As such it is a tremendous resource for all - beginners and experienced. In addition, it produces excellent reports and special issues that make new results and ideas on very specific topics widely available."
Ana Parma, Consejo Nacional de Investigaciones Científicas y Técnicas, Argentina
The workshop series has been an undeniable success, which was recognized in 2017 when it received the American Institute of Fishery Research Biologists' (AIFRB) Outstanding Group Achievement Award and in 2018 when it received the American Fisheries Society's (AFS) William E. Ricker Resource Conservation Award.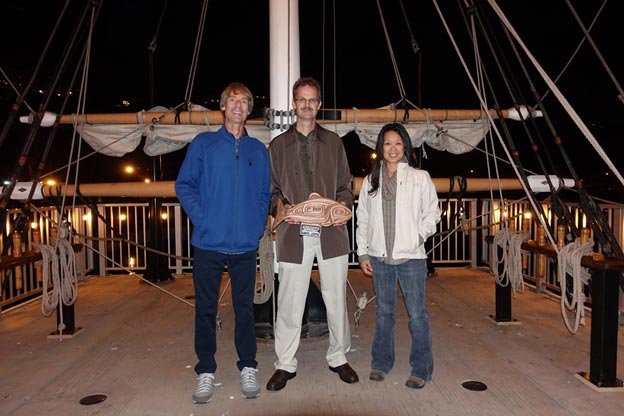 Mark Maunder (center) and Paul Crone (left) receiving the AIFRB award
The results of the worshops are recorded for future generations in the worksop reports, but also in special issues of the journal Fisheries Research. A special issue is currently in progress for the Rome workshop, with each keynote speaker providing a draft of their manuscript before the meeting to afford background reading for the participants.
"The Special Issues of Fisheries Research have consistently been the most cited issues of the journal, with papers in the issues being amongst the most cited papers in the journal."
Prof. André E. Punt, former Director of the School of Aquatic and Fishery Sciences, University of Washington and editor of the journal Fisheries Research
The workshop participants discussed the future of CAPAM and continuation of the workshop series was unanimously and enthusiastically supported. Other activities like completing the Good Practices Guide, capacity building, and dealing with data limited methods will be contingent on securing additional funding.
"CAPAM has transformed the field of fisheries stock assessment by bringing together the very best people who are advancing the science behind assessments, to rapidly promote the adoption of best practices. In the past decade, no organization has done more to advance the field. This is absolutely the very best value for money for an investment in the future of fisheries management that could be made."
Professor Trevor Branch, University of Washington
More information about CAPAM and the stock assessment workshop series can be found on the CAPAM website at
http://www.capamresearch.org/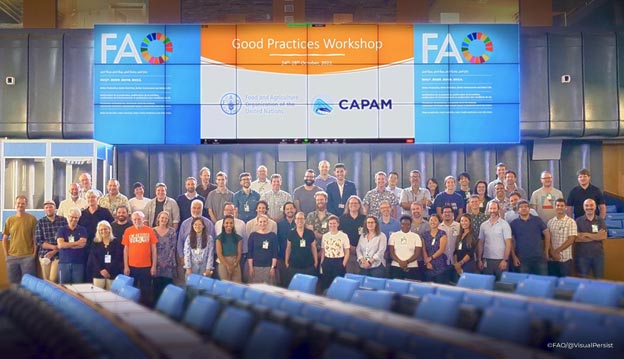 Particpants of the CAPAM Good Practices Workshop at the FAO headquarters in Rome