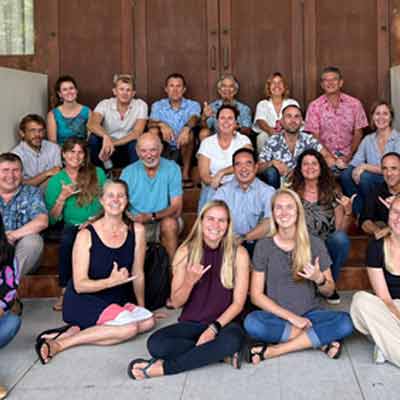 ISSF - Workshop on Reducing drifting Fish Aggregating Devices (FAD) impacts on sea turtles 
Press release
During October 24-27, 2022, Jon Lopez, Melanie Hutchinson and Marlon Roman, from the IATTC staff, along with an international team of experts, traveled to Honolulu, Hawaii, to participate in a workshop aiming towards reducing drifting Fish Aggregating Devices (FAD) impacts on sea turtles, both through entanglements and habitat degradation. Sea turtle mortality due to entanglement in drifting FADs has traditionally been considered negligible based on direct observations. However, FAD use across the Pacific Ocean has increased in recent decades and so has the concerns for sea turtle mortality due to ghost fishing or when FADs drift into areas of biological importance (e.g., nesting beaches, sensitive habitats). The project began in 2020 in response to a funding award from NOAA Fisheries Pacific Islands Regional Office NA20NMF4540142 and seeks to create guidelines to reduce the impact of lost and abandoned FADs on marine turtles, and included scientists from AZTI, ISSF, IATTC, SPC, NOAA-PIFSC, and Hawaii Pacific University's Center for Marine Debris Research. During the past week, participants reviewed the results of the project over the last two years, conducted a workshop for local interdisciplinary experts, project funders, and interest groups. In addition, the group discussed the best way to produce dissemination material, including a number of peer-reviewed publications and documents for working groups of interest (e.g., the Ecosystem and Bycatch Working Group of the IATTC) that will come out of the project, including guidelines and recommendations for best practices for drifting FAD design, construction, and deployment to reduce impacts on sea turtles.
Over the last two years, the project conducted fisher workshops with Pacific Ecuadorian, Spanish and Micronesian purse-seine captains to gather perspectives on turtle entanglement issues and potential mitigation options. The working group also constructed simulation models that estimate the trajectories of drifting FADs using observed FAD deployment locations and areas high FAD density across the Pacific Ocean and were able to quantify when and where FADs end up after a period of 3 years at liberty. Simulation results illustrated connectivity values between FADs and areas of interest, including areas for potential exit of the fishing grounds, FAD deployment areas that may be more likely to move into areas of significance for sea turtles, as well as areas where stranding events happen. Backwards simulations were also conducted to identify potential sources for FADs that strand in the Hawaiian archipelago.
Next steps for the project include finishing up reports on the outcomes of the two-year study and the development of a best practices document that includes the perspectives from all interest groups, including suggested guidelines for fishers, scientists, and managers. A very productive week for the IATTC staff and the project team in Hawaii, that also included time for a visit to the Hawaii Pacific University Marine Center Research Center and the United Fishing Agency's fish auction to observe the land-based side of the fishery.