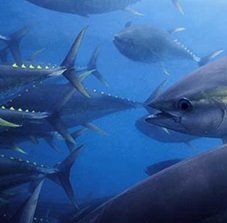 Project M.2.d - Evaluating knowledge and data gaps to the implementation of best handling and release practices for vulnerable species in IATTC fisheries
Click to see projects by theme, goal or target:
Objectives

Conduct a review to identify knowledge and data gaps hindering the implementation of best handling and release guidelines for vulnerable species in IATTC fisheries

Background

Improving the post release fate of prioritized, vulnerable and/or no retention species is key to support sustainable fisheries.
Handling and release practices have been shown to have significant impacts on survival outcomes for discarded species.
Therefore, accurate guidance on handling and release practices that maximize the potential for survival post release for prioritized species is desirable across IATTC fisheries.

Relevance for management

Improved handling and release practices will reduce the impact of IATTC fisheries on vulnerable species and populations

Duration

24 months

Workplan and status

Year 1: Collate and review available data on post release survival and current handling practices; write a review document for the EBWG; make recommendations to improve research and knowledge gaps and priorities.
Year 2: Start developing a live document with improved handling and release guidelines for vulnerable species across fishing sectors where possible, seek CPC input, explore options to improve communication with fishers, including developing illustrations to accompany guidelines or online resources.

External collaborators

CPCs, fishing organizations

Deliverables

Review document collating available information and identification of research and knowledge gaps to be addressed in future efforts (EBWG-01-01)
Identification of areas where vulnerable species resolutions can be improved, and make recommendations to the SAC and the Commission accordingly.
Dissemination material (e.g., illustrated guides, online resources) for the fleet, the Ecosystem and Bycatch Working Group, the SAC, and other meetings and organizations of interest.