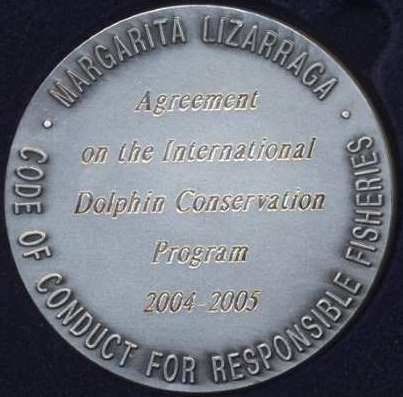 AIDCP wins FAO Margarita Lizárraga Award
Award
At its Conference in Rome on 19 November 2005, the Food and Agriculture Organization of the United Nations (FAO) awarded the Margarita Lizárraga medal to the Agreement for the International Dolphin Agreement (AIDCP) in recognition of its "comprehensive, sustainable and catalytic initiatives" in support of the
Code of Conduct for Responsible Fisheries
.
The medal is awarded to a person or organization which has served with distinction in the application of the FAO Code of Conduct for Responsible Fisheries. According to Jacques Diouf, the Director-General of the FAO, the AIDCP was selected for the award "in recognition of its comprehensive, sustainable and catalytic initiatives in support of the Code of Conduct for Responsible Fisheries, in particular those aspects relating to the precautionary approach and to the utilization of fishing gear and techniques which minimize the catch of non-target species."
The head of the Secretariat for the AIDCP, Robin Allen, received the award on behalf of the AIDCP. "The award reflects the international recognition of the outstanding work of the AIDCP in conserving the resources of the eastern Pacific tuna fisheries, and in particular its groundbreaking measures to protect dolphins," he said. "The programs of the AIDCP include strict measures to reduce dolphin mortalities, including the placement of observers on all large purse-seine vessels to provide objective scientific information on the fishery and on the compliance of vessels with its conservation measures. Under the AIDCP, the mortality of dolphins in the eastern Pacific has been reduced to levels approaching zero, and the majority of the tuna produced from that area is eligible for the AIDCP Dolphin-Safe Tuna label."
In the eastern Pacific Ocean, large yellowfin tuna are often found associated with herds of dolphins, and fishers take advantage of this association to catch the tuna. This fishery has the advantages of both taking only mature yellowfin, and also minimizing bycatches of other fish and sea turtles. The AIDCP sets limits for allowable mortality of dolphins for the purse-seine fishery. Vessel mortality limits and required fishing practices are monitored by observers who accompany all purse-seine fishing vessels that might set their nets around tuna schools that are associated with dolphins.